Spanish Language Summer Camp In Barcelona, Spain
Summer Camp in Barcelona! Barcelona is one of the most famous cities in all of Europe. It is the 2nd largest city in Spain. Barcelona is both very historic and very cosmopolitan and full of energy. It seems that every street and every corner has something new to discover. You will find world-class museums, fascinating architecture, historic sites of interest, excellent restaurants, plus much more. Add in the beaches of the Mediterranean and you have a wonderful place in which to spend time!
This wonderful city offers what we feel is an excellent immersion experience for our Spanish summer camp students. The Barcelona Spanish Summer Camp is situated on the outskirts of the city close to the famous Laberint Park. Nearby is the Mundet metro stop which means most sites of interest in Barcelona are just minutes away!
Barcelona Spanish Summer Camp (5-18 yrs old)
At the Barcelona Spanish Summer Camp our students will receive 4 classes per day (M-F). Each Spanish class is 45 minutes in duration. There is never more than 14 students in any class. Classes are arranged by age and Spanish level proficiency. In addition to classes the Spanish Language Camp in Barcelona offers a wide range of activities (see below). Students that stay at the on site residence will have 24/7 Supervision and will not be able to leave the campus without Adult Supervision.
Since the residence is on site this means that the camp can make sure that all Spanish Summer Camp participants attend all classes and activities and are supervised. We do have a host family option in Barcelona offered through our separately listed Teen Spanish Program which does require a commute each day to and from school that is unsupervised. Students at the Barcelona Spanish Camp will be able to leave the campus for excursion and activities. When this occurs there will be adult supervision.
The camp is located just a few minutes from the heart of Barcelona, in Castelldefels, which offers more than 5 kilometers of fine-sand beaches. It lies right on the coast, between the Mediterranean Sea and the landscapes of Garraf Natural Park.
Check out a video of some of the students at the camp. 
In addition to modern classrooms the Barcelona Summer Campus features a game room,  computer room, media room, study and dining hall. The campus also includes a large terrace, garden, and outdoor sports facilities.
Lodging
Student Residence: 
Staying at the on site residence at the Spanish Language Sumer Camp in Barcelona means that students have 24/7 supervision. Rooms at the residence are set up for 2-4 students. Each room has large windows to bring in plenty of light. All rooms are fully furnished and have their own bathroom.
Students receive 3 meals and a snack each day. For trips the camp provides sack lunches. Notify us of any food preferences and allergies when registering.
Activities & Excursions
The Spanish Language Summer Camp in Barcelona, Spain offers an extensive list of activities outside of class. Activities include workshops, sports and recreational activities. Activities are age appropriate.
Cultural Activities: The availability of these workshops will depend  on the school, dates and the age of the student. Please note that below is a sample of past offerings and is subject to change:
Outdoors Workshop: Participants will get to know different aspects of nature and take part in activities including camping, trekking and hiking on ecological trails.
Journalism Workshop: Students create a bi-weekly newspaper that includes camp news and a variety of articles by the campers.
Music & Percussion Workshop:  The campers may learn how to play the bongos, the flamenco cajón (a special box for creating flamenco rhythms), the tambourine, the guitar, maracas and other instruments. Theatre Workshop This workshop allows campers to create their own plays and perform them, as well as recreate famous works on the counsellors' recommendation.
Arts & Crafts Workshop: Campers express their creativity by using various materials to create handicrafts, such as play dough, paper, threads, yarn, clay and more.
Ballroom Dancing Workshop: Students learn traditional ballroom dance steps to traditional and popular music from Spain and all over the world.
Flamenco & Sevillanas: Participants will develop their sense of rhythm and will learn to synchronize and coordinate steps by learning the basics of these dances.
Other Activities: Several activities will take place in the afternoon or after dinner either out in the open or inside the school's premises such as contests, talent shows, theme days, camping games and discos.
SPORTS There is a wide variety of sports and activities available at our different schools, though they may change from year to year and they may not all be available at every location. For example Basketball, Handball, Aerobics, Bowling, Volleyball, Baseball, Soccer, etc.
Sample Weekly Schedule: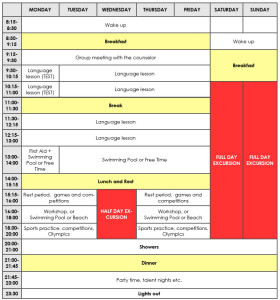 Sample Excursions for Barcelona Summer Camp:
Visits to Sitges and Tarragona. Half Day Excursions include the Parc Guell, Tibidabo Amusement Park, and Pueblo Espanol.
Prices
1 week:   $1,150
2 weeks: $1,925
4 weeks: $3,595
6 weeks: $5,335
Extra week: $1,110
What is included?
4 Spanish classes per day (M-F)
Accommodations in the on site residence. 3-4 students in each room
3 meals per day. Snack each day
Laundry service
Excursions, activities
Medical insurance
Facts At A Glance
Ages: 5 to 17

80% international students, 20% Spanish students

24-hour supervision

Programs: Residence camp, day camp, or classes only

Capacity: 180 students
Spanish Language Summer Camp Start Dates
Arrival dates are as follows: June 28, July 5, 19 Aug 2, 16. Last day is Aug 29.
Departure dates are on the Saturday at the end of the program.
We require flight information 2 weeks prior to the start of the camp in order to arrange airport pickup. A staff member from the camp will wait at the airport with a sign.