Spanish Language Summer Camp In Madrid, Spain
Madrid is one of Europe's most vibrant cities. Madrileños are a vigorous, joyful lot, famous for their apparent ability to defy the need for sleep; they embrace their city's cultural offerings and make enthusiastic use of its cafés and bars. If you can match this energy, you'll take in Madrid's museum mile, with more masterpieces per square foot than anywhere else in the world; the palaces and boutiques of regal Madrid; the dark, narrow lanes of medieval Madrid; and Madrid post-midnight, where today's action is.
Life in Madrid is lived in the crowded streets and in the noisy cafés, where talking, toasting, and tapa-tasting last long into the night. Many find the city's endless energy hard to resist, and its social lifestyle makes it especially easy for travelers to get involved.
The Spanish Summer Camp is located outside the main city at the Campus of the prestigious Universidad Franscisco de Vitoria in the upper class suburb of Pozuelo de Alarcón.
The location of the summer camps provides a safe environment for all students and within close proximity to the city for half day excursions. This is also a more natural environment with world-class facilities to accommodate all aspects of the Spanish Camp for all ages. The campus is markedly full of trees and green areas for an overall beautiful environment.
Madrid Spanish Summer Camp (5-18 yrs old)
At the Madrid Spanish Language Summer Camp students will receive 4 class per day (M-F). Each class is 45 minutes long. No more than 14 students will be in a Spanish class. After class and on the weekend the summer campo offers an extensive range of cultural activities and excursions.
Students will stay in an on site residence which will have 24/7 adult supervision. No student can leave the camp without adult supervision.
Staying at the residence ensures that student participate in all classes and activities and are supervised.  We do offer a host family through our separately listed Teen Spanish Program which does require a commute each day to and from school that is unsupervised. Madrid Summer Camp students will be able to leave the campus when supervised by adults for any excursions and offsite activities.
In addition to modern classrooms the Madrid Campus features student lounges, TV room, study halls, a gymnasium, a dining hall, and computer room. Given its location at the University, students will have access to high quality athletic facilities including tennis, paddle, and basketball courts as well as a football field for soccer lessons.
Lodging
Student Residence: 
Students in the residence have 24/7 supervision. Dorm room are double occupancy. Large windows in the rooms allow for plenty of sunlight. Dorm rooms are fully furnished and have their own bathroom.
Students will receive a snack and 3 meals each day. During trips a snack and sack lunch will be provided.
Activities & Excursions
The Spanish Language Summer Camp in Madrid, Spain offers an extensive list of activities outside of class. Activities include workshops, sports and recreational activities. Activities are age appropriate.
The scheduling of activities is designed to ensure that the children learn and participate in as many sports, workshops and recreational activities as possible. The activities are always appropriate for each age level and may be of an individual, group or team nature.
Cultural Activities: The availability of these workshops will depend  on the school, dates and the age of the student. Please note that below is a sample of past offerings and is subject to change:
Outdoors Workshop: Participants will get to know different aspects of nature and take part in activities including camping, trekking and hiking on ecological trails.
Journalism Workshop: Students create a biweekly newspaper that includes camp news and a variety of articles by the campers.
Music & Percussion Workshop:  The campers may learn how to play the bongos, the flamenco cajón (a special box for creating flamenco rhythms), the tambourine, the guitar, maracas and other instruments. Theatre Workshop This workshop allows campers to create their own plays and perform them, as well as recreate famous works on the counsellors' recommendation.
Arts & Crafts Workshop: Campers express their creativity by using various materials to create handicrafts, such as play dough, paper, threads, yarn, clay and more.
Ballroom Dancing Workshop: Students learn traditional ballroom dance steps to traditional and popular music from Spain and all over the world.
Flamenco & Sevillanas: Participants will develop their sense of rhythm and will learn to synchronise and coordinate steps by learning the basics of these dances.
Other Activities: Several activities will take place in the afternoon or after dinner either out in the open or inside the school's premises such as contests, talent shows, theme days, camping games and discos.
SPORTS There is a wide variety of sports and activities available for each of our different schools, though they may change from year to year and they may not all be available at every location. For example Basketball, Handball, Aerobics, Bowling, Volleyball, Baseball, Soccer, etc. We also offer the following optional sports which are available at an extra cost*. These must be booked in advance to reserve a spot. Only 1 optional sport per 2 week session.
Tennis or Paddleball: $245 per 2 week session (12 sessions) ; Racquets and balls provided
Horseback Riding: $310 per 2 week Session (12 sessions); Riding techniques taught based on previous experience
Soccer: $310 per 2 week session (12 sessions); Beginner to Advanced Levels; Advanced registration required due to popularity of the program.
Yoga, Robotics, or Creativity: $245 per 2 week session (12 sessions)
Sample Weekly Schedule: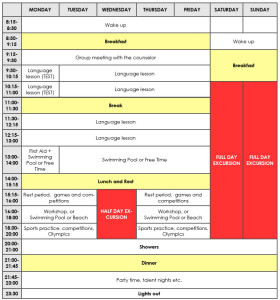 Sample Excursions for the Madrid Spanish Summer Camp:
Visits to Toledo, Avila, Salamanca, or Segovia. Half Day Excursions to El Escorial, Aquopolis, Madrid Tour, Alcala de Henares, La Pedriza, or Arnajuez
Prices
2 weeks: $1,985
4 weeks: $3,495
6 weeks: $5,100
8 weeks: $6,465
What is included?
4 Spanish classes per day (M-F).
Accommodations in the on site residence.
3 meals per day. Snack each day
Laundry service
Excursions, activities
Medical insurance
Min of 2 week stay required
Spanish Language Summer Camp Start Dates
Arrival dates are as follows: June 16, 30 July 14, 28. Last day is Aug 10.
Departure dates are on the Saturday at the end of the program.