Spanish Language Summer Camp In Marbella, Spain
Spanish Language Summer Camp in Marbella! Marbella is one of the most recognized vacation destinations in all of Spain with foreigners from all over the globe visiting to take in the warm Costa del Sol. The city is home to some small museums, world class shopping, and some of the most beautiful beaches in the country. The moderately sized city provides a secure base for Spanish Summer Camp students and is in close proximity to several of the great cities of Spain which students will have the opportunity to visit including Sevilla, Granada, and Ronda.
Two Summer camps are based in Marbella with one option five miles from the city center offering an expansive campus in a secure forested area. The second camp is for older teens and is directly in the city center offering close proximity to the beach and shops. Marbella makes an amazing first impression for those teens who have never traveled to Spain before and our Spanish Camp offering provides modern amenities and a full day of immersion courses and fun filled activities.
Click on the links below to find out further information about our Spanish Language Summer Camp in Marbella, Spain. 
Marbella Spanish Summer Camp (12-17 yrs old)
We offer a great Spanish camp in Marbella for students that are 12-17 years old.
The Spanish Camp is open to a wider age range is located on a 9.5 acre estate surrounded by  a forest of pine trees providing a natural setting for a Summer Spanish Camp. The campus is almost 5 miles from the city center of Marbella, but is still a short walk to the beach, which students will be able to visit with camp directors.
Sample Spanish Sumer Camp Schedule
Lodging
Student Residence Sumer Camp 
This option includes 24/7 supervision. Dorm rooms are shared with 8-12 students (same gender). Showers and bathrooms are down the hall and shared with other dorm rooms. A camp counselor sleeps in each room for maximum supervision. Dorm is made up of 2 floors separated by gender.
3 meals and a snack each day is included. During excursions the camp will provide a sack lunch and a snack.
The Campus facilities include a large pool, TV room, conference halls, covered multipurpose sports area, large green areas, climbing wall, basketball court, handball court, football field, and recreation hall.  Security is in place 24/7.
Activities & Excursions
The Spanish Language Summer Camp in Marbella, Spain offers an extensive list of activities outside of class. Activities include workshops, sports and recreational activities. Activities are age appropriate.
The scheduling of activities is designed to ensure that the children learn and participate in as many sports, workshops and recreational activities as possible. The activities are always appropriate for each age level and may be of an individual, group or team nature.
Cultural Activities: The availability of these workshops will depend  on the school, dates and the age of the student. Please note that below is a sample of past offerings and is subject to change:
Outdoors Workshop: Participants will get to know different aspects of nature and take part in activities including camping, trekking and hiking on ecological trails.
Journalism Workshop: Students create a bi weekly newspaper that includes camp news and a variety of articles by the campers.
Music & Percussion Workshop:  The campers may learn how to play the bongos, the flamenco cajón (a special box for creating flamenco rhythms), the tambourine, the guitar, maracas and other instruments. Theatre Workshop This workshop allows campers to create their own plays and perform them, as well as recreate famous works on the counsellors' recommendation.
Arts & Crafts Workshop: Campers express their creativity by using various materials to create handicrafts, such as play dough, paper, threads, yarn, clay and more.
Ballroom Dancing Workshop: Students learn traditional ballroom dance steps to traditional and popular music from Spain and all over the world.
Flamenco & Sevillanas: Participants will develop their sense of rhythm and will learn to synchronise and coordinate steps by learning the basics of these dances.
Other Activities: Several activities will take place in the afternoon or after dinner either out in the open or inside the school's premises such as contests, talent shows, theme days, camping games and discos.
SPORTS There is a wide variety of sports and activities available at our different schools, though they may change from year to year and they may not all be available at every location. For example Basketball, Handball, Aerobics, Bowling, Volleyball, Baseball, Soccer, etc. We also offer the following optional sports which are available at an extra cost*. These must be booked in advance to reserve a spot. Only 1 optional sport per 2 week session.
Tennis or Paddleball: $245 per 2 week session (9 hrs.) ; Racquets and balls provided
Horseback Riding: $245 per 2 week session (9 hrs.); Riders assessed for riding proficiency
Football (soccer): $310 per 2 week session (16 hrs.)
Golf: $310 per 2 week Session (10 hrs.); Clubs and Balls Provided
 Swimming (Only Camp #1): $125 per  2 Week Session (8 hrs.)
Sample Weekly Schedule: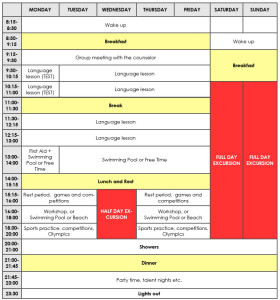 Sample Excursions for the Marbella Spanish Summer Camp:
Visits to Sevilla, Granada, Tarifa, Ronda, or Nerja. Half Day Excursions include Puerto Banus, Mijas, Sierra de Las Nieves, Marbella City Tour or Aqualand.
Prices
The cost for Camp
2 weeks: $1,985
4 weeks: $3295
6 weeks: $4,950
8 weeks: $6,065
What is included?
4 Spanish classes per day (M-F). 5 classes in Camp #2
Accommodations in the on site residence.
3 meals per day. Snack each day
Laundry service
Excursions, activities
Medical insurance
Min of 2 week stay required
Spanish Language Summer Camp Start Dates
Marbella Spanish Camp: Arrival dates are as follows: June 16, June 30, July 14, July 28. Last day Aug 10