Spanish Language Summer Camp In Salamanca, Spain
Spanish Language Summer Camp in Salamanca! Salamanca is world-famous historic university town. Located in the region of Castile and León, this is the region of Spain where the Spanish that we know today (Castilian) was developed. The city center of Salamanca is full of beautiful old sandstone buildings which give off a wonderful golden hue on sunny days. As home to the University of Salamanca, the city has a very youthful feel to it. Stroll through the pleasant parks and winding streets and you are sure to fall in love with Salamanca.
Our company has offered Spanish programs and summer camps in Salamanca since 1996. The feedback we have received over the years has been excellent. If you want your child to participate in a Spanish Summer Camp in a historic town this is the place to be. The city is close to Madrid by public transportation.
Click on the links below to find out further information about our Spanish Language Summer Camp in Salamanca, Spain. 
Salamanca Spanish Summer Camp (5-18 yrs old)
The Salamanca Spanish Summer Camp is located in the historic walled portion of the city. The summer camp is located on the large campus of Colegio Calasanz which itself is situated in an upscale neighborhood of Salamanca. More than half of the participants of the summer camp will be Spaniards who are learning English. These participants however will join up with the other students who are learning Spanish for all the afternoon activities, meals, and excursions. We feel this offers an excellent immersion experience.
The campus consists of a large U Shaped courtyard with a 5 floor building holding all school facilities including 35 classrooms, large conference room, media room, computer room, and dining hall. Externally the campus holds several sports fields, a basketball and volleyball court, roller hockey pitches, as well as a swimming pool. Maximum capacity is 250 students.
Summer Camp participants will take 4 Spanish classes per day (M-F). Each class runs 45 minutes. There will be a max of 14 students in any one class. Classes are divided based on age and Spanish language proficiency.
There is an on site residence. With this accommodation option the student has 24/7 adult supervision. Spanish Summer Camp participants cannot leave the campus without adult supervision.
Students 14 yrs and older CAN also opt to live with a Spanish host family. This requires a short commute each day which is unsupervised.
Lodging
Student Residence: 
The Salamanca Spanish Summer Camp offers 24/7 supervision for students who select to stay in the residence. The dorm rooms are double occupancy. Showers and bathrooms are down the hallway and shared. Dorm rooms have their own sinks, shelving and closets. The dorm consists of 2 floors and are separated by gender.
All students who stay at a student residence will receive three meals and a snack every day.  The meal plan includes breakfast, lunch and dinner. When there is an excursions, students will receive a sack lunch and snack. Please notify us of any allergies or special diet at the time of registration, so the school can provide advanced preparations.
Salamanca Host Family: 
Teens that are 14 and up can stay with local host families. With this housing option, students will be walking to and from school without adult supervision. Students will be provided with Breakfast and Dinner from the Host family and will have their lunch and snack at the school. During the day, they will still need to attend all classes and activities from 9:30 am to 8:00 pm. Host families are generally up to 30 minutes walking distance from the school.
Activities & Excursions
The Spanish Language Summer Camp in Salamanca, Spain offers an extensive list of activities outside of class. Activities include workshops, sports and recreational activities. Activities are age appropriate.
The scheduling of activities is designed to ensure that the children learn and participate in as many sports, workshops and recreational activities as possible. The activities are always appropriate for each age level and may be of an individual, group or team nature.
Cultural Activities: The availability of these workshops will depend  on the school, dates and the age of the student. Please note that below is a sample of past offerings and is subject to change:
Outdoors Workshop: Participants will get to know different aspects of nature and take part in activities including camping, trekking and hiking on ecological trails.
Journalism Workshop: Students create a biweekly newspaper that includes camp news and a variety of articles by the campers.
Music & Percussion Workshop:  The campers may learn how to play the bongos, the flamenco cajón (a special box for creating flamenco rhythms), the tambourine, the guitar, maracas and other instruments. Theatre Workshop This workshop allows campers to create their own plays and perform them, as well as recreate famous works on the counsellors' recommendation.
Arts & Crafts Workshop: Campers express their creativity by using various materials to create handicrafts, such as play dough, paper, threads, yarn, clay and more.
Ballroom Dancing Workshop: Students learn traditional ballroom dance steps to traditional and popular music from Spain and all over the world.
Flamenco & Sevillanas: Participants will develop their sense of rhythm and will learn to synchronise and coordinate steps by learning the basics of these dances.
Other Activities: Several activities will take place in the afternoon or after dinner either out in the open or inside the school's premises such as contests, talent shows, theme days, camping games and discos.
SPORTS There is a wide variety of sports and activities available at our different schools, though they may change from year to year and they may not all be available at every location. For example Basketball, Handball, Aerobics, Bowling, Volleyball, Baseball, Soccer, etc. We also offer the following optional sports which are available at an extra cost*. These must be booked in advance to reserve a spot. Only 1 optional sport per 2 week session.
Tennis or Paddleball: $275 per 2 week session (9 hrs.) ; Racquets and balls provided
Horseback Riding: $275 per 2 week session (9 hrs.); Riders assessed for riding proficiency
Golf: $375 per week per 2 week Session (10 hrs); Clubs and Balls Provided
Sample Weekly Schedule: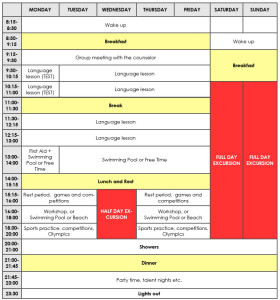 Sample Excursions for the Salamanca Spanish Summer Camp:
Visits to Avila and Ciudad Rodrigo. Half Day Excursions include the Cathedrals of Salamanca and Casa de las Conchas.
Prices
2 weeks: $1,985
4 weeks: $3,495
6 weeks: $5,100
8 weeks: $6,465
What is included?
4 Spanish classes per day (M-F)
Accommodations in the on site residence. 2 students in each room OR host family accommodations
3 meals per day. Snack each day
Laundry service
Excursions, activities
Medical insurance
Min of 2 week stay required
Spanish Language Summer Camp Start Dates
Arrival dates are as follows: June 16, June 30, July 14, July 28. Last day Aug 10